Fake Waiter
As a waiter among waiters, Bjørn de Vil is noticeable after a few minutes by his charming and rascally behavior.

Skillfully he mixes uninvited into table discussions, eleminates insects out of peoples drinks by using a tiny fishing rod or transforms wine into water. While bringing a hot white coffee to the table, he stumbles in the last second but fortunately the cup is empty… When he fries an egg "the juggler´s way" directly beside the table, also the last guests finally realize who he really is.
Stilt Theatre
Bjørn de Vil, for more than 25 years a professional comedy juggler and magician, fascinates with his stilt theatre for over 15 years children and adults on events of all kind.

Besides, new beguiling and amusing art figures originated and originate over and over again in XXL - format, far away visible and with it ideally suitably for outdoor events, but also for subject events. Since Bjørn de Vil loves diversity: Whether historical double-deckers, playful gigantic nonsense animals, removed flower dreams, seamen in toyboats or an unusual Santa Claus, convince yourselves of the following sides of the creations which perform as walking acts on stilts on nearly any event. Have fun!
Visit my Stilt Theatre Website!
The Ostrich Johann Strauß
Johann Strauß - not only a classical composer…

Johann Strauß is an eye catcher and heart breaker par excellence. Rascally and playfully he picks and pecks at humans and dogs around, always on the search for a new practical joke. If Johann opens his beak too wide, you can take out tiny presents or balloons depending on the occasion. At delecate events Johann Strauß also works as a drug and weapon investigator at the reception area and guarantees a 100% safe event.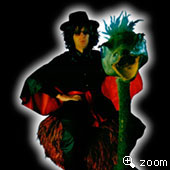 Walking Act Johann Strauß
Crazy bikes
Do you think riding a bicycle is very easy?

Those who believe so, never sat on Bjørn de Vil`s crazy bicycles. On the vice versa bicycle one turns to the right, but drives to the left. And vice versa. The handlebar of the bicycle reacts the other way round. Anyone who manages to drive more than six meters without touching the ground will get a price. The camel bike is a combination of a rowing boat and a pushbike. The cyclist moves up and down like on a camelback. Looks really stupid and is a lot of fun. The reverse bike is pedaled backwards in order to drive forward. An exciting stimulation for new synapses in the brain. Who manages fastest to give up old habits? Bjørn de Vil moderates these programs charmingly and with a wink and shows it over and over again. An interactive attention-getter for fares, city festivals, corporate events and all kinds of theme events concerning bicycles, traffic and mobility in general. Also good in combination with Bjoern de Vils Five-Wheeler-outdoor show
Break a leg!
Crazy Bikes Video